Zug Vital Signs Monitor SPLF-OX
Zug Medical System SpotLife® Vital signs monitor has been designed to serve frontline caregivers in emergency, perioperative care and ICU/NICU departments.With its accurate oximetry adapted for adult as well as neonate, it provides a continuous and accurate monitoring of the SpO2 and PR even in case of low perfusion. SpotLife is declined in versions with either NIBP or CO2 measurement with optional fast temperature monitoring.
Its handle and lightweight make it easy for transport use while its 4 stable feet allow a reliable use
as bedside monitor. Cost effective, it remains a comprehensive device for multiple applications and environments.
Description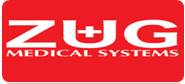 Bright, 5" color TFT LCD Monitor
intuitive user interface
w/selectable modes
9 LED indicators
new patient preset to set alarm for neonates,pedia and adult
360 degrees visible alarm
2400mAh Lithium Battery
bluetooth ready
w/USB port
for Oximetry, NIBP, capnography & Thermometry.